This is because your webhook file is not properly configured by the developer to receive messages from picky assist servers, please check followings
First make sure the incoming messages are showing in the picky assist console "Messages" , if the messages are not showing then the issue will in the picky assist bridge mobile app.

Please make sure Smart Replies are Offline, If smart replies are online global webhook which set under Settings -> Webhook will not trigger but you can configure Webhook under Smart Replies -> Settings

Picky Assist app wont work with any cloned or dual whatsapp installed in your phone, please make sure only whatsapp personal and business in running in your phone

Make sure your server accepts POST requests from 3rd party sites

Make sure your firewall / router not blocking our server ip, if required please whitelist our server ip 165.22.144.6

After configuring the webhook please use the "Test" button in the webhook to test request and response.
​
The reason could be any of the followings ;
Notification Access is not given to the picky assist mobile app, please go to picky assist mobile app and Click on "Check Notification Status" and ensure Picky Assist is turned on as shown below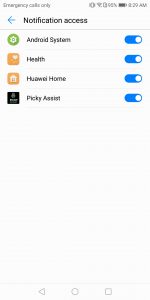 Make sure WhatsApp Notification is turned on from the Notification Settings of the WhatsApp or Phone
In most of the phones Google Play blocks certain types of socket communications to 3rd party services so there are chances the communication sockets of picky assist might have blocked by Google Play , you need to disable the "Play Protect" Follow the below steps to disable the Play Protect
Open Google Play Store -> From Top Left Side Menu -> Click "Play Protect" -> Disable "Scan device for security threats"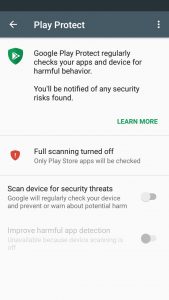 ​
​
No, currently we dont support receiving any media files from whatsapp , still when a user sends any media files we can inform you that what kind of media they sends based on this information you can give an instant reply with a URL where the user can upload the media file or share the location.
We have a alpha version of bridge mobile app which supports receiving images and we will be making it available very soon to our customers
​
This is possible if the incoming number is already saved in the phone contacts with a name and have multiple numbers added into the contacts where the picky assist app in installed
We highly recommend to clear your phone contacts list to get all numbers captured correctly by picky assist app, as sometimes numbers saved in the phone contacts may not have country code and broadcast feature will not work without country code.